Neurorestorative and Neurorehabilitation Solutions Pvt Ltd
Neurorestorative and Neurorehabilitation Solutions (NRNRS) are the game changers in neurological physiotherapy and neurorehabilitation. Our novel approach to brain recovery is changing the landscape for stroke and traumatic brain injuries even months to years after time of onset. Our flagship, first of its kind, MHRA registered app is resolving spasticity even years after muscles have become rigid and hands have become tight fisted.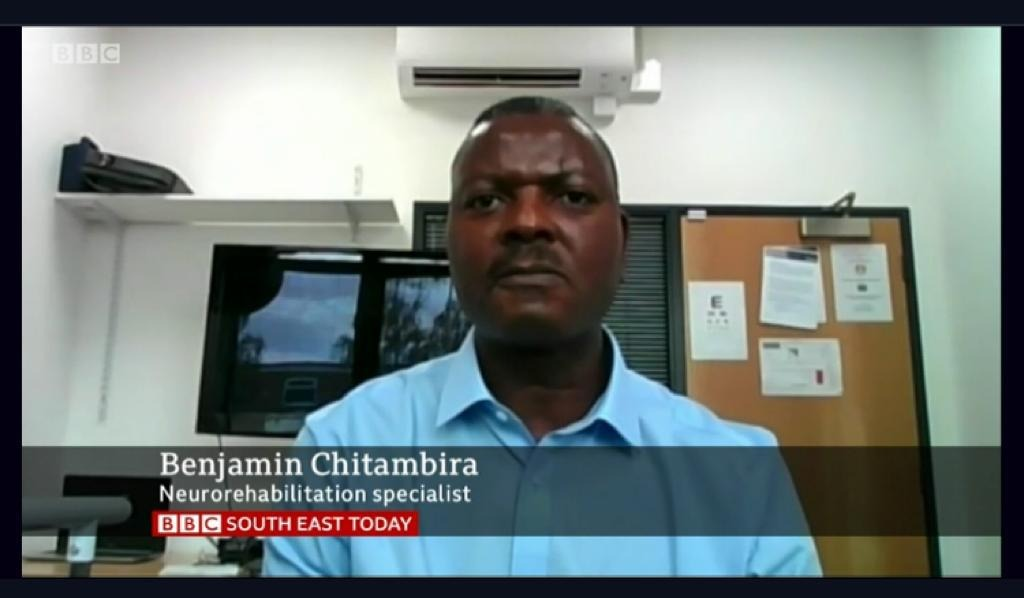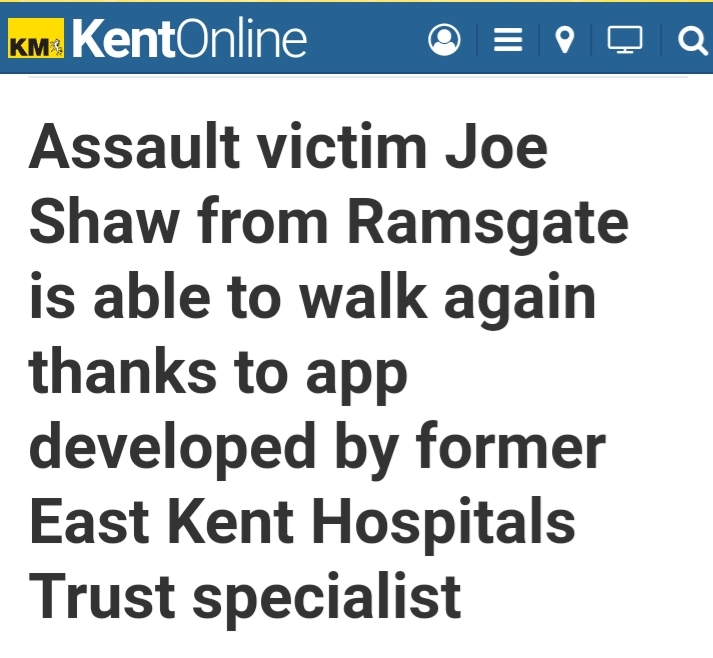 In the news: KentOnline Article
As providers of private neurological physiotherapy (neuro physiotherapy) services, NRNRS use latest clinical evidence and latest brain neurosciences-based treatments to help your brain improve its neuroplasticity. This will maximise recovery of your balance, voluntary movements, muscle strength, spatial awareness and coordination as well as reduce falls and fear of falling after stroke, traumatic brain injuries and other neurological conditions.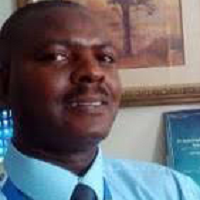 Ben Chitambira Director
Expert Scientifically Unique Neuro Physiotherapy
Our physiotherapy and rehabilitation service is scientifically unique and innovated to suit your needs as an individual person. https://pubmed.ncbi.nlm.nih.gov/25227545/ https://www.tandfonline.com/doi/abs/10.3109/02699052.2013.775480 https://pubmed.ncbi.nlm.nih.gov/21447910/
This applies whether you have a stroke, traumatic brain injury, spinal cord injury, neuropathy, multiple sclerosis or Parkinson's Disease. NRNRS offers highly specialised neuro physiotherapy and neurorehabilitation solutions for your individual residual problems to improve the quality of your arm and leg movements, to improve the quality of your walking and to improve overall body and limb coordination. Most importantly NRNRS offers expert stroke physiotherapy and neurological physiotherapy that improve your balance system directly in the brain to make you resist gravity better so that you automatically gain confidence in your walking and in carrying out day to day activities.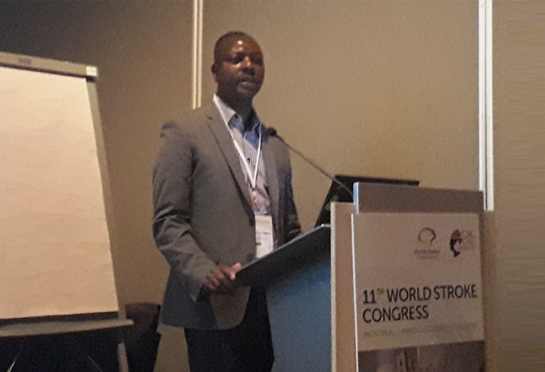 Ben Chitambira gives a presentation
Neurological Physiotherapy Experts at Resolving Shoulder Pain
NRNRS are experts at resolving shoulder pain caused by loss of balance muscles around the shoulder blade when severe stroke or traumatic brain injuries impair the balance system in the brain. Our expert neuro physiotherapy service focuses on recovery of use of the balance muscles around your shoulder blade so that you recover the necessary tilt and movement of the shoulder blade. This prevents damaging compensatory passive pulling of your shoulder joint capsule and tightening tendons.
Neuro Physiotherapy Experts at Prevention of Spasticity
NRNRS are experts at prevention of spasticity which leads to shortening of some muscles, clawing of affected hands and rigidity. These result from failure to recover voluntary movements after conventional neurological physiotherapy. When you lose your balance system in the brain, you lose the ability to resist gravity and to keep your limbs stretched and straight, in a flexible way. As a result, your limbs bend and tighten some of the muscles and tendons. This happens especially in the chest muscle that pulls the shoulder and arm towards the body, inside the elbow, inside the wrist and in the hand's fingers. The same tightening occurs in the front of the hip and behind the knee in affected legs.
Specialist Neurorehabilitation for minimising compensatory abnormal arm and leg movement patterns
NRNRS' neurological physiotherapy programme reduces the extent to which the stronger side takes over and mainly compensates for your injured brain. We tailor your exercises to the nervous sub-system affected and the type of energy releasing mechanism the muscle fibres operated by that sub-system use. This ensures efficiency in achieving your goals. There is no point in using exercises that use lactic acid processes to rehabilitate muscles that use oxygen. The reverse is also true.
Expert Neurological Physiotherapy for Prevention of Falls
Falling and fear of falling is a big issue after a person experiences stroke, traumatic brain injuries and other neurological conditions. At NRNRS we don't just make you compensate for the sensation of feeling like falling all the time and the resultant loss of confidence to carry out your day to day tasks. We offer you tailor-made neuro physiotherapy and neurorehabilitation programmes that make you recover your balance system's control of your antigravity muscles. This then spontaneously gives you the feeling of confidence in your automatic ability to resist gravity. We have long recognised that it is not your fault when you lose that confidence. It is because your balance system in your brain will long have processed the risk and responds by needing extra sensory feedback from your hands as you hold onto furniture and walls. You start needing extra sensory feedback from your feet's pressure sensors so you struggle to balance on the beach and also shuffle to keep your feet in contact with the floor or ground most of the time. Eventually you start needing extra sensory feedback from your eyes so you struggle to balance in the shower or when you wake up in reduced light at night. At NRNRS we empathise with you and design specific scientific exercise programmes to help you regain control and confidence.
Vertigo and dizziness are a sign that your balance system is not working well. Vertigo and dizziness occur after a person suffers a stroke, a traumatic brain injury, other neurological or vestibular condition. This must be treated and not be allowed to slow neurorehabilitation while waiting for natural recovery. This is something we put an emphasis on at NRNRS.
We provide innovative neurological physiotherapy and neurorehabilitation that focus on transforming lives for those affected by activity limiting neurological conditions. These conditions include:
Stroke,
Traumatic brain injuries,
Spinal cord injuries,
After intensive care unit critical care paralysis and muscle wasting,
Multiple Sclerosis,
Guillain-Barre Syndrome,
Parkinson's Disease,
Vertigo and dizziness
Falls and
Bell's Palsy.
In neurological physiotherapy and neurorehabilitation, research points to the fact that balance is a must for walking and carrying out of day to day tasks. The balance system contributes to normal muscle tone so that muscles of the arms and legs do not shorten and tighten.
NRNRS offers expert balance system neurological physiotherapy treatments that prevent and manage spasticity or rigidity where it has already happened. Our neurological physiotherapy emphasises recovery of balance to the affected side to minimise the unaffected side making most of the compensation for the affected side.
Our neurological physiotherapists are specialists in stroke, traumatic brain injuries and a wide range of other neurological conditions. For more information go to https://nrnrs.co.uk/about-us and https://nrnrs.co.uk/conditions-treated